TOKYO JAZZ JOINTS x RHINOÇÉROS
7 June 2019

-

28 June 2019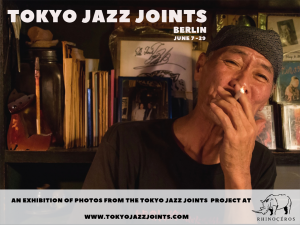 From June 7th thru June 28th
Tokyo Jazz Joints and Rhinoçéros are proud to present you an exhibition of photographs by Philip Arneill documenting Tokyo's hidden jazz culture.
Opening Friday June 7th: photographer Philip Arneill will be there to talk about the project.
Limited edition framed prints will be on sale.
http://www.tokyojazzjoints.com
http://www.rhinoceros-berlin.com
ABOUT TOKYO JAZZ JOINTS
is a documentary project by photographer Philip Arneill and writer James Catchpole, which began in 2015 to document Tokyo's myriad jazz bars and cafes; the project subsequently expanded to cover the whole of Japan.
Japan's incredible subculture of jazz bars and "kissaten" coffee shops many of which opened after World War II – is a hidden, insular world which is slowly vanishing in the face of changing trends, ageing customers and rising rents. Since the project began many of the joints photographed have closed down, and more continue to do so; time is ticking to record the remaining places before these living museums of musical culture disappear forever from Japan's urban landscape.
The project is a visual chronicle of a unique world, and is a tribute to the passion and dedication of the owners of these incredible places.