No Room For Squares Session 9 : Archie Shepp – Blasé (1969)
25 November 2019 @ 20 h 00 min

-

22 h 00 min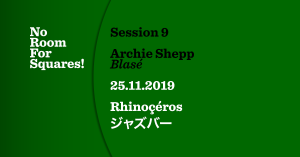 No Room For Squares Session 9, 25.11.2019 :
Archie Shepp – Blasé (BYG Records, 1969)
"When you talk about African-American music, music made by blacks in the United States, all that music goes back to the spiritual, and the blues has some political implication to it. The blues tell the story of black people, how they suffer and how they overcome suffering." (Archie Shepp)
Featuring two members of the Art Ensemble Of Chicago this album is more of a homage to blues and melody, fusioned with dark and mysterious mood, much influenced by the fight for black rights of Malcolm X and King.
Mixing African roots, blues, gospel, spiritualism and free jazz this album is one of the peaks of the whole Actuel Series, an attempt to simultaneously pay homage to jazz's roots and to look ahead to the future.
A selection of records from the BYG/Actuel Series will be played afterwards.
Please Stay for a chat and enjoy the exclusives NO ROOM FOR SQUARES cocktails!
We open 18:30, session starts 20:30. We invite you to fully enjoy the records in silence.
Rhinoçéros Bar is a small and cosy Jazz joint, strongly dedicated to the highest quality of sound, wines and drinks.
Audio menu:
Bowers & Wilkins DM70 speakers, Quad 33 Preamp, Quad 303 Amp &
AVM R2.3 turntable.
For reservations : hello@rhinoceros-berlin.com
Follow NRFS on Instagram and Facebook pages to discover the playlists of every session!
https://www.instagram.com/noroomforsquaresberlin
https://www.facebook.com/noroomforsquaresberlin